Electronic Waste can become a problem: What not to do
Every week more data breach lawsuits are in the news which causes Companies to stock their E-waste in a "safe" storage room. 
More Companies try to save time and money by doing the same without realizing and or ignoring the fact that these actions can become just as costly and time-consuming.
Why is your storage room or warehouse not a safe place to store e-waste?
Electronic devices have chemical hazards:

E-waste component Cathode ray tube (CRT) glass, batteries, solder, older printed circuit boards, Batteries, switches, thermostats, fluorescent tubes, Nickel-cadmium batteries, printed circuit boards, phosphor coating on CRT glass, Older printed circuit boards, Plastic cases and parts, Potential hazard Lead dust, Mercury vapor, Cadmium dust, Beryllium dust, and Flame retardant dust.

Potential health effects from long-term exposure:

Anemia, kidney damage, high blood pressure, nerve, and brain damage, miscarriage, congenital disabilities, Nerve and brain damage, congenital disabilities, Kidney disease, bone problems, lung cancer, lung disease, probably lung cancer, Possible thyroid hormone problems.
To risk your health and those of your employees can be more costly than just a lawsuit, it can cost a life. s
How to get rid of e-waste safely and effortlessly : Find a Safe Recycling Company.
1. Dispose Of Small Electronics:
SBC Recycle offers ethical e-Waste collection and electronic recycling in Portland Oregon and surrounding cities
We will provide you with durable containers of various sizes that you can place strategically in your office or warehouse for staff to deposit their small electronics (keyboards, mice, small printers, etc.)
Our recycling containers can be found all over the Portland Metro Area as we serve companies such as OHSU, Pacific University, Xerox, Nike, City of Milwaukee, Oregon Clinic, Sears, Siemens and many more.
We do more than say we're green and talk about safe recycling. We are committed to adhering to the standards set by the Basel Action Network (BAN) and e-Stewards Recycling Certification regarding "E-waste" export for reuse, repair, and refurbishment.
We're the first companies, to offer e-waste collector at the office. We support the Responsible Electronics Recycling Act (H.R. 2284). The Responsible Electronics Recycling Act has proposed legislation which would restrict toxic e-waste exports to developing countries which lack adequate safeguards for the environment and workers.
Portland has come to trust the SBC Recycle because they know e-waste is being reused or recycled without damaging our planet.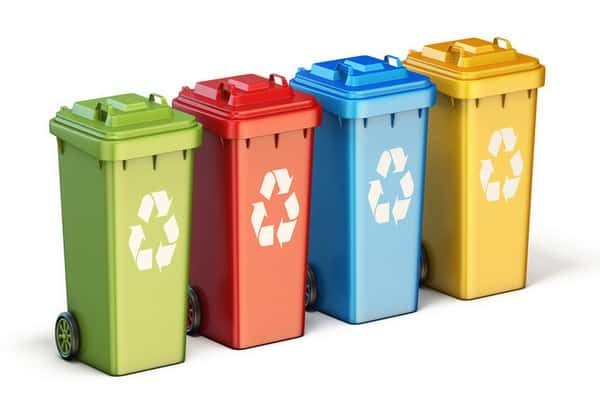 Collection Bins For Your Office or Warehouse
2. Electronic Recycling Pick-up [We load and haul electronics]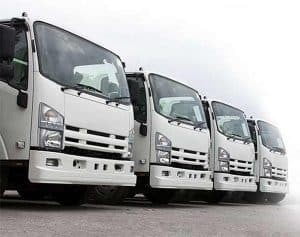 SBC Recycle offer easy ONLINE scheduling
We provide same/next day professional pickups for your convenience. 
Our staff is always friendly and professional.
We have a fleet of trucks for fast and effective removal of electronics
We are geared for emergency pickups. Give us a call.
Our standard pickup service covers a curbside pickup (other options available). This means that you pay online and leave your item anywhere outside for us to pick it up. Most homeowners prefer this arrangement as it is convenient and not intrusive at all. You don't have to be home, and we don't have to invade your privacy.
Note: If you live in an apartment or think your HOA will complain about the item on the curb/outside, simply leave a note "SCHEDULED FOR PICK-UP" on your item. This will assure them that you are not abandoning an item and that it will be removed promptly.
We can pick your items up for a fee which is calculated based on how many miles away you are from our facility. The further away you are, the more expensive the cost. You can get a quote by simply typing in your address in STEP 4 after adding the items to be picked up to your cart in STEP 1.
If you don't want to leave it on the curb or in the driveway then we understand, we can also pick up items from inside your home. Note: There will be an additional fee for removing items from inside your house. See "Item Location" in STEP 4.
You can choose a specific recycling pickup date and time during the scheduling process. You will have an option to select the date and time in STEP 4.Please note: There will be an additional fee if you need a specific 2-hour time window. We will send out a dedicated truck to your location to be there on time.
Customer service is our highest priority, so we will go out of our way to pick up your items on the day you've requested.
However, unforeseen circumstances such as weather conditions, traffic, or workload might prevent us from picking up your items on the day you've requested. If this unlikely scenario arises, we will come out the following business day to grab your items.
We will be in touch via email or phone if we are unable to pick up your items on the day you've scheduled.
3. Data Destruction Tracking System
SBC Recycle offer to take all responsibility from our Customers because we offer Secure Data Destruction 
Customers will have access to a secure portal where they can track their e-waste throughout the recycling process from pickup to final demanufacturing via our intelligent TrackEwasteTM system.
Clients will receive notifications each step of the way
Clients can schedule pickups online
Clients can track recycling history for up to ten years
Clients can view detailed hard drive audit reports
Clients can view detailed descriptions of serialized items such as laptops, desktops
Clients can print recycling and destruction certificates
Clients can see real-time video surveillance of our data destruction Bench.
SBC Recycle is more than just electronics recycling: We are a Complete Secure E-waste Solution and offer secure data destruction.
Safeguarding confidential information is crucial for all companies in our current perilous and insecure digital landscape. SBC is proud to offer 100% guaranteed physical destruction of sensitive data for your company. We currently serve small businesses, government agencies, healthcare organizations, financial institutions, and manufacturers in the Portland Metro Area.